HAVE YOU HAD A CHANCE TO SEE OUR JAGUARS UP CLOSE?
Kaloa, Johar and Stewie are truly magnificent! It is unimaginable that jaguars are disappearing from this earth. With less than 15,000 left in the wild, they are in peril.

Hunted and pushed out of their natural habitats by human activities such as logging and ranching, it is ultimately up to us – humans – to find the solutions that will save jaguars from the looming threat of extinction.
Now, for a limited time, when you make a year-end gift of $250 or more, you and one guest will be invited to a special jaguar viewing.
Your VIP invitation will enable you and a guest to enter the Zoo before regular hours, to watch our jaguar enjoy his breakfast. You'll meet our jaguar keeper, who will tell you all about her charges and answer any questions you may have. We'll also provide a "human feeding" of hot chocolate, coffee and doughnuts.

When you support the L.A. Zoo, you become part of our team to save animals from extinction!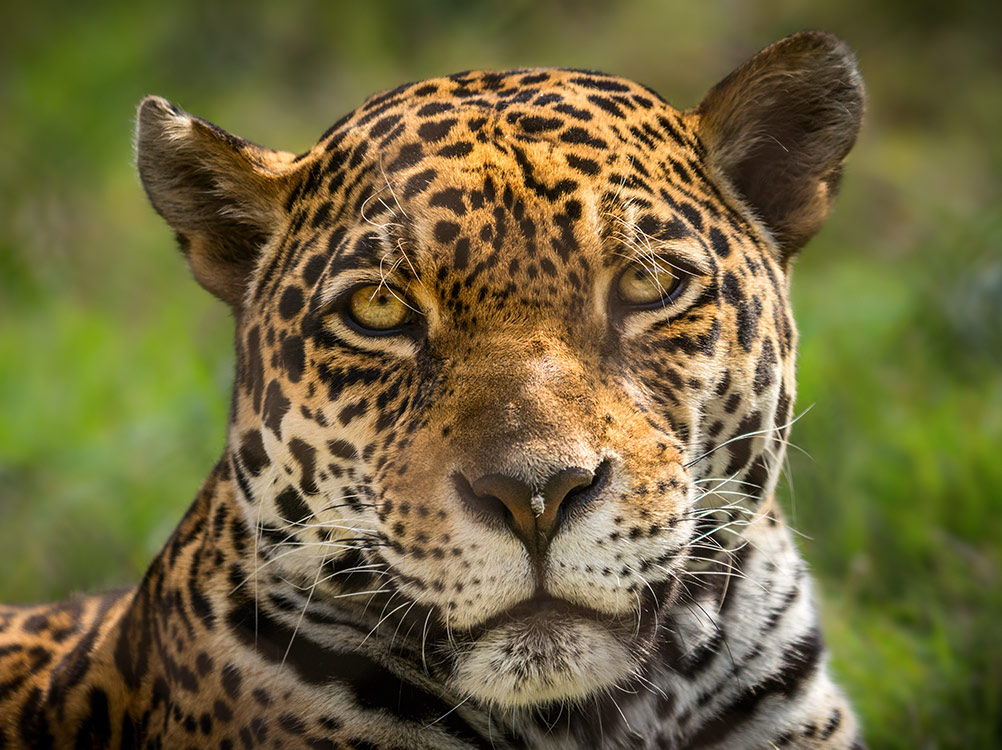 The Los Angeles Zoo is home to three jaguars – males Kaloa and Stewie, and female Johar – each with a distinct personality and needs.
No one knows them better than keeper Danila Cremona, recently awarded the Jean M. Hromadka Excellence in Animal Care Award from the American Association of Zoo Keepers. Dani has been working at the Los Angeles Zoo for over a decade, teaching her charges numerous behaviors to aid in their care. When she talks about these big cats, her passion and enthusiasm are infectious.

She explains, "Normally, 9-year-old Johar is a sassy, growly spitfire. But animals can suffer from the same illnesses that humans do, such as diabetes or cancer, and Johar has bouts of IBS (irritable bowel syndrome). We give her medication and she sometimes has to be fed small meals up to 6 times a day as we try to control her symptoms and make her comfortable."

6-year-old Stewie is Johar's mate, paired together as part of a Species Survival Plan (SSP). Stewie is nervous and shy by nature, and can be frightened by new experiences and sounds, but he visibly relaxes in Johar's company. As Dani says, "She is his security blanket. She is brave and confident, and he trusts her. When they play they act like kittens!"

Kaloa, the senior male, is 16 years of age, and Dani has been his main caretaker for 12 of those years. They have a very special bond, and Dani loves his calm, easy-going personality. Part of his daily routine is to "present" his paws to Dani, so that she can examine them and treat them with mineral oil to protect them.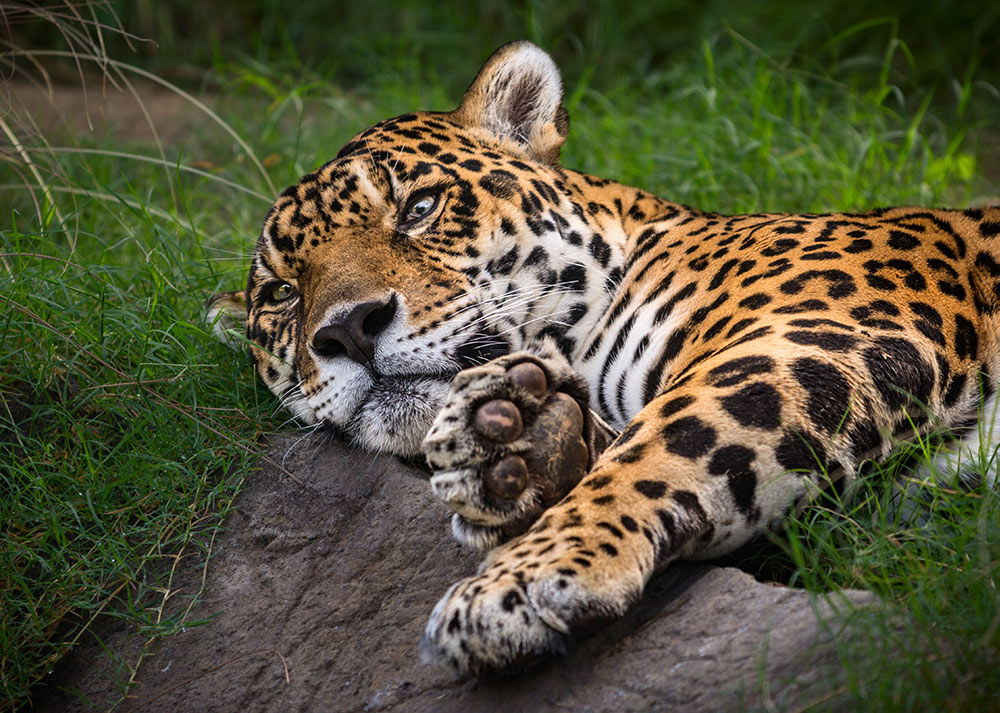 The Los Angeles Zoo also reaches beyond its borders in its efforts to aid the jaguar. Funding is also provided to conservation organization Paso Pacifico's jaguar program in Nicaragua. Big cat biologist Miguel Ordenana – co-incidentally, an expert on our own local mountain lion, P-22 – has teamed with Paso Pacifico to mitigate tensions between livestock owners and jaguars, who, as they lose their own habitat and prey to deforestation, turn to domesticated animals as a source of food. Working with the local government, he reaches out to affected communities, conducting workshops to teach local livestock owners how to protect their livelihoods while maintaining a sustainable future for these big cats.

But your support does so much more than protect our endangered jaguars.

Conservation, animal care and welfare, and education are core to the mission of the Los Angeles Zoo. Connecting people, particularly our youth, to animals, builds empathy for wildlife. When you visit the Zoo, you learn about why the animals are here, what the Zoo does to ensure that they have a future on this planet and why empathy leads to action. HERE YOU LEARN TO CARE!

Please join us in our ongoing mission to save not only the jaguar, but all endangered species by making a gift by December 31st!! Help us continue our work here at the Zoo nurturing Johar, Stewie and Kaloa, as well as preserving their wild born siblings in the rainforests of Nicaragua.

Every dollar will make a difference!
DONATE
$65,693
RAISED
$65,000
GOAL
| | | |
| --- | --- | --- |
| | | |
| This Campaign | 335 | 101% |
| has ended. | Believers | Funded |
This campaign has ended.